THE ARBITER CALLS. WILL THEY ANSWER?
Enter the dark fantasy world of Teleria. An ancient guardian, the Arbiter, seeks to return to the world.
To do so, she must summon a band of unlikely champions. They will be challenged to lay down their grievances, join forces, and light the spark that will cast down the darkness.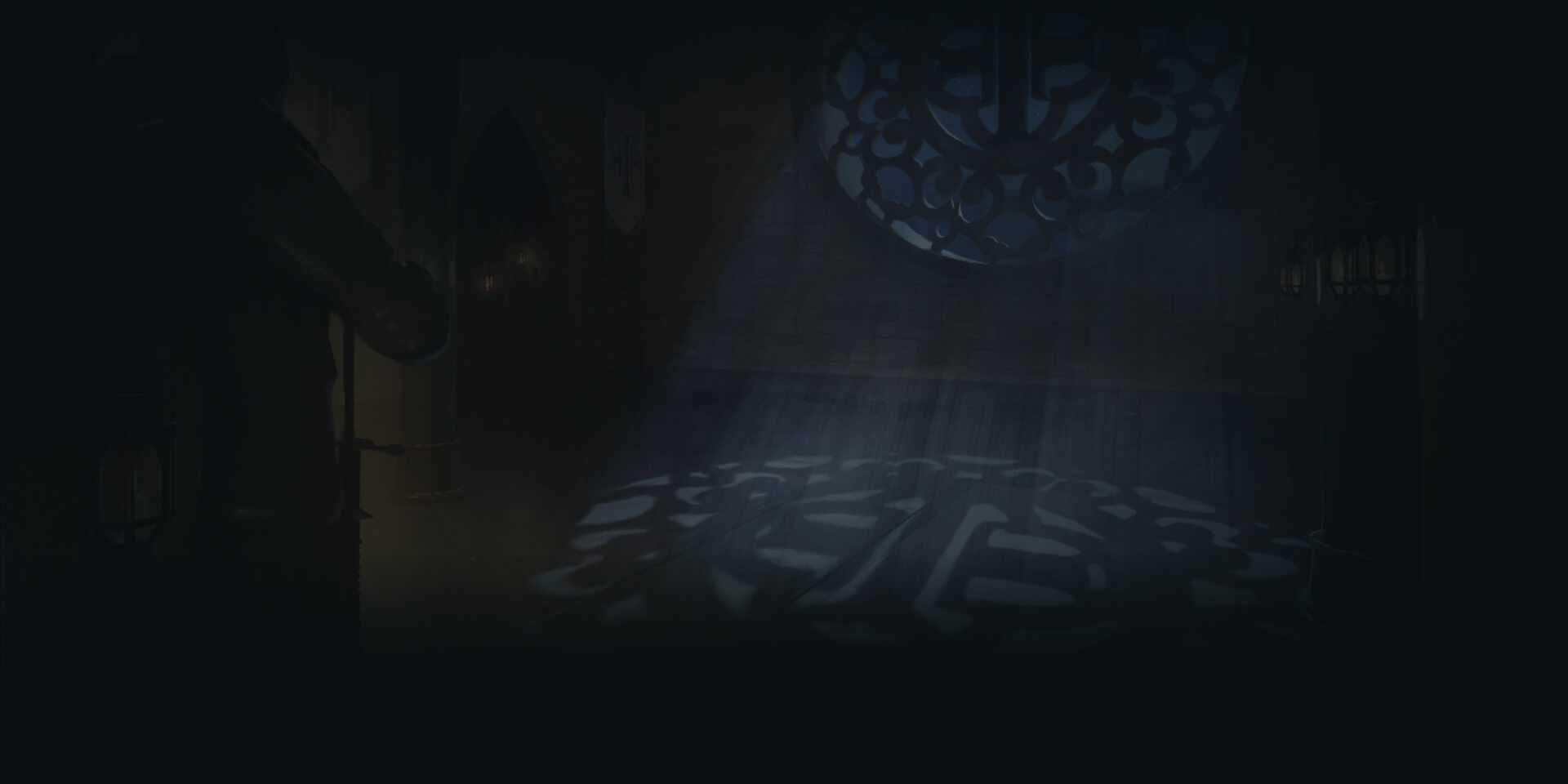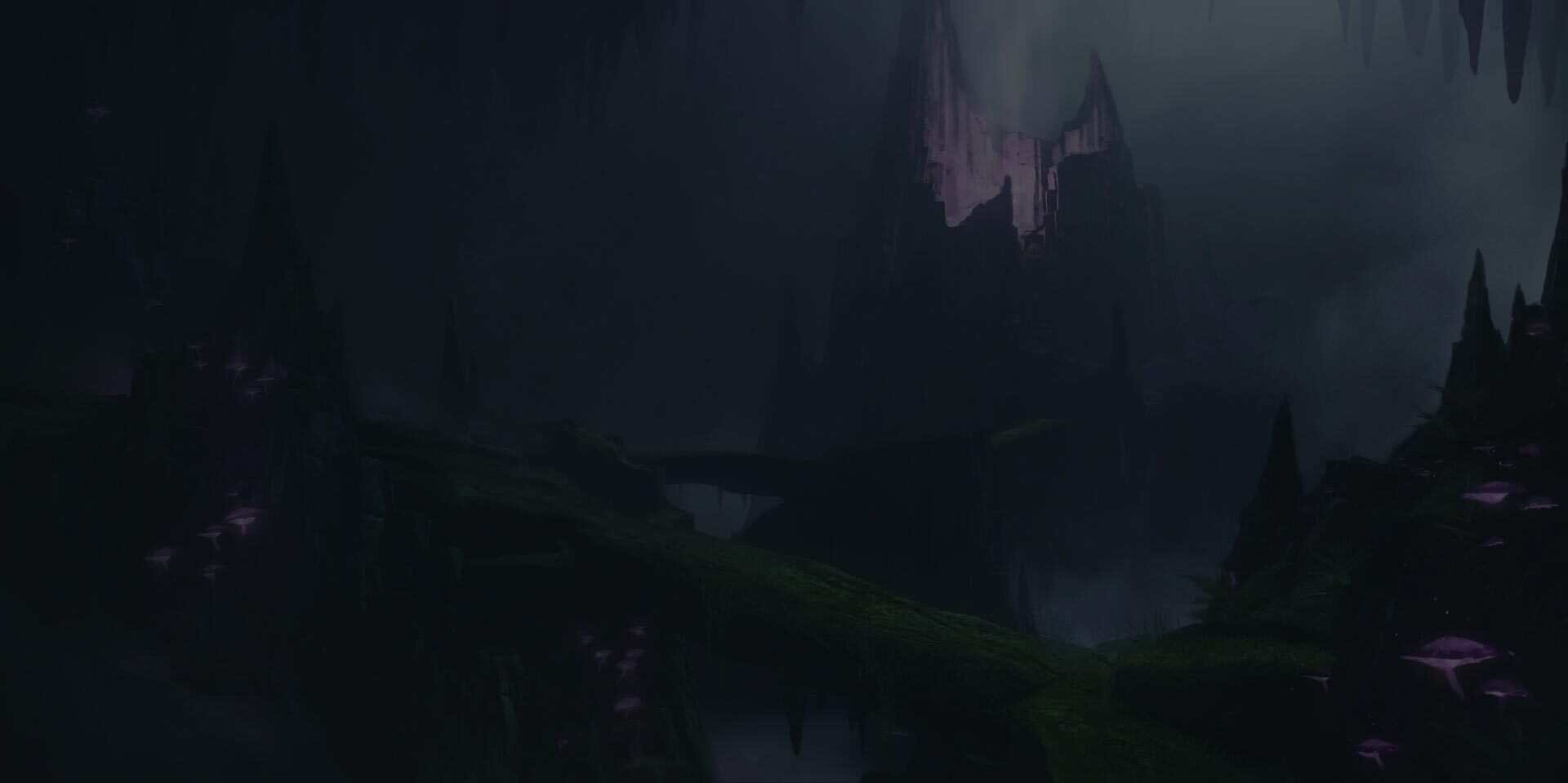 Credits
Creating a series like RAID: Call of the Arbiter requires the collective effort of many skilled and talented individuals. We'd like to thank everyone involved; every studio and single individual that has poured their heart and soul into this project. It would not have been possible without you. Thank you!
Executive Producers


NICK DAY & GARY ROSENFELD & JAY OLIVA

Produced By


ERIC S. ROLLMAN

Directed By


JAY OLIVA

Written By


KENDALL DEACON DAVIS & ALEX HAUGHEY

Music By


JESPER KYD

Based on the Game Created By


THE PLARIUM UKRAINE STUDIO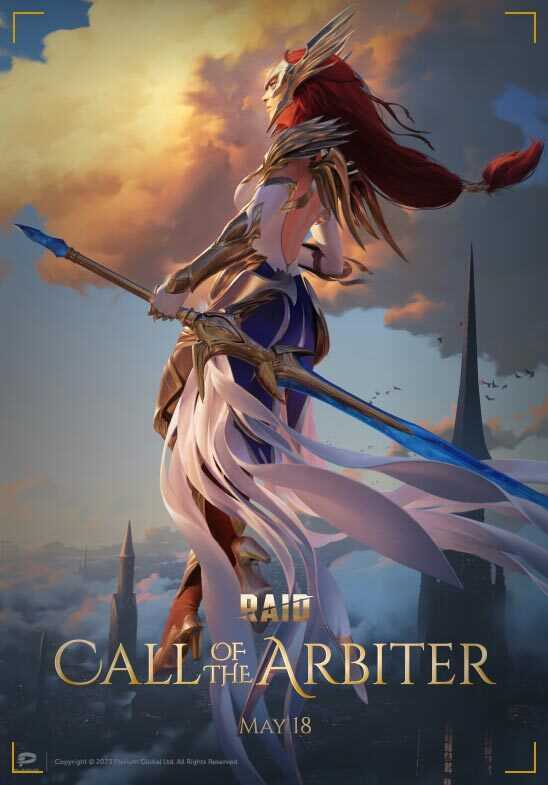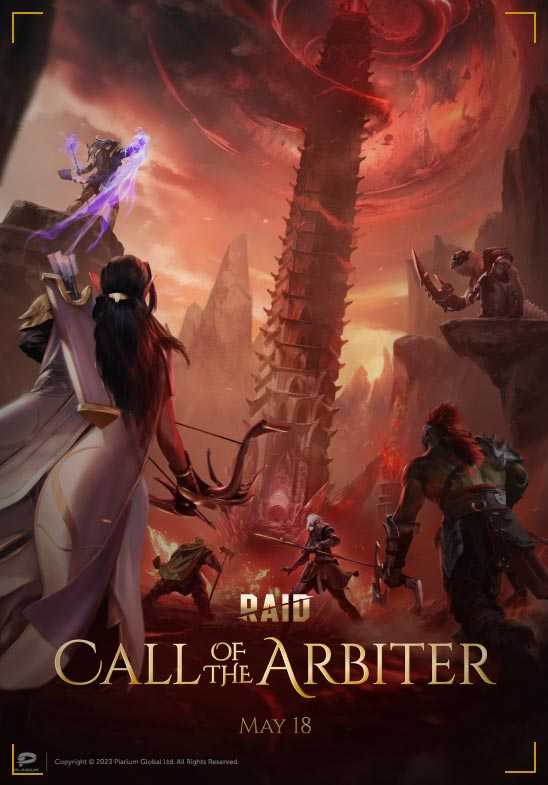 Cast
Casting
Voice Director & Casting Director

WES GLEASON
Voice actors
Elhain

CIA COURT

Lady of the Wood

CIA COURT

Female Trainee

CIA COURT

Female High Elves, Female Dark Elves

CIA COURT

Female Orcs, Female Humans

CIA COURT

Female Demon Spawn

CIA COURT

Galek

CHRIS TERGLIAFERA

Male Trainee 1, Guard 3

CHRIS TERGLIAFERA

Guard 1

CHRIS TERGLIAFERA

Male High Elves, Male Dark Elves

CHRIS TERGLIAFERA

Male Dwarves

CHRIS TERGLIAFERA

Male Demon Spawn

CHRIS TERGLIAFERA

Male Students

CHRIS TERGLIAFERA

Athel

KIMBERLY WOODS

Female High Elves, Female Dark Elves

KIMBERLY WOODS

Female Orcs

KIMBERLY WOODS

Female Dwarves

KIMBERLY WOODS

Female Students

KIMBERLY WOODS

Jizoh

JON LIPOW

Demon Leader, Demon Spawn

JON LIPOW

Male Trainee 2 , Guard 2

JON LIPOW

Male High Elves, Male Dark Elves, Mystic Hand

JON LIPOW

Bannerlords

JON LIPOW

Male Students

JON LIPOW

Minotaur, Ice Golem

JON LIPOW

Tatsu

MONIQUE SHI

Female High Elves, Female Dark Elves

MONIQUE SHI

Arbiter

ELWYNN STONEHEART

Athel's Mother

ELWYNN STONEHEART

Harvester

ELWYNN STONEHEART

Female Dwarves

ELWYNN STONEHEART

Kael

KAISER JOHNSON

Male Trainee 3, Guard 1

KAISER JOHNSON

Male Orcs, Male Humans

KAISER JOHNSON

Male Dwarves

KAISER JOHNSON

Male High Elves, Male Dark Elves

KAISER JOHNSON

Male Demon Spawn

KAISER JOHNSON

Arion

KAISER JOHNSON

Shamael & Sam

STERLING SULIMAN

Bannerlords

STERLING SULIMAN

Male Students

STERLING SULIMAN

Bad-El Kazar, Valkanen

ADAM GOLD

Bannerlords

ADAM GOLD

Ice Golem

ADAM GOLD

Alure

ERIN YVETTE

Female Trainee 2

ERIN YVETTE

Female Students

ERIN YVETTE

Gnut

RIVER KANOFF

Male Orcs, Male Humans

RIVER KANOFF

Godseeker Aniri

EILEEN ANGLIN

Queen Eva

EILEEN ANGLIN

Baroness

EILEEN ANGLIN

Dark Fae

EILEEN ANGLIN

Artak

ERIK BRAA

Mountain King, Male Dwarves

ERIK BRAA

Fire knight

ERIK BRAA
Lex + Otis
LEX + OTIS PRODUCTION TEAM
Director

JAY OLIVA

Line Producer

PHIL CRAIN

Production Accountant

TRINSHA MATHIEWS

Production Manager

JOSIE O'BRIEN

Pre-Production & Records Coordinator

STEVEN EDWARDS

Senior Production Coordinator

PHOEBE PARKER

Senior Design Coordinator

REBECCA NELSON

Consulting Producer

JAMES BALDANZI

Consulting Producer

CORY GUSTKE

Production Assistant

MICHELLE TIMM

Production Assistant

SUSANNAH GWINN

Production Intern

HARRY COHEN

Production I.T.

RAY FELIZ
LEX + OTIS EDIT TEAM
Editor

CHRIS LOZINSKI

Assistant Editor

DANIELLE WIECZOREK
LEX + OTIS STORYBOARD TEAM
Storyboard Artist

KALVIN LEE

Storyboard Artist

ANDRES VELASCO

Storyboard Artist

BEN LI

Storyboard Artist

TIM DIVAR

Storyboard Artist

SHARON SUN

Revisionist

MIO DE ROSARIO

Main Title Storyboard Artist

MIO DE ROSARIO

Main Title Concept Art

JAY OLIVA
LEX + OTIS ART & DESIGN TEAM
Art Director

NGHIA LAM

FX Artist

JOJO AGUILAR

Compositor

PATRICK FLANAGAN

Environment Artist

PACE WILDER

Environment Artist

HAK KANG

Character Designer

OMAR FIELD-RAHMAN

Character Designer

BETTY JIANG

Environment Artist

BRE GALLOWAY

Prop Artist

JAMES ROBB

Environment Artist

JAY HONG

Environment Artist

SHAY STANDLEY

Character Designer

JUNG SUH

Environment Artist

JUNE TRAN

Environment Artist

MIGUEL MENDEZ

Environment Artist

SAMUEL CHON

Character Designer

JESSICA LACKEY

Character Designer

WILL NICOLAS

Environment Artist

ACE CARMAN

Character Designer

LINA NGO
TeamTO
ASSOCIATES PRODUCERS
President & CEO

GUILLAUME HELLOUIN

S.V.P Development & Production

CORINNE KOUPER

V.P Productions

CAROLINE SOURIS

S·V·P· Legal and Finance

PATRICK DEDIEU

Chief Technical Officer

JEAN-BAPTISTE SPIESER
ART & SUPERVISING CREW
CG Supervisor

MATTHIEU ROYER

CG Supervisor Deputy

ALAN BOISSEAU

Art Director

LOÏC BRAMOULLÉ

Art Supervisor

JULIA KERGUELEN

Head of Assistants Director

MAXIME DELORME

First Assistant Director

PIERRE FERRIER

First Assistant Director

MARC-ANTOINE DELELIS

Deputy V.P. Productions

CLÉLIA SANTI

Studio Director

CAROLE TOLEDO

Deputy Studio Director

MÉLANIE CASTAGNA

Production Supervisor

LILLANNA CHAMPENOIS

Production Manager

ISAAC SALEHY

Production Manager

ALAIN TANDUNDU

Production Manager

ARTHUR SAUMON

Production Manager

MANON NÈVE

Production Manager

CLARA JEANBERNE
TECHNICAL CREW
Supervising Technical Director

ALAN LE PRINCE

Pipeline Development Director

GUILLAUME DAVID

Leading Technical Director

GAËTAN KRUSCHAT

Deputy Chief Technical Officer

DAVID GAUTHIER

Technical Director

OLIVIER MONTEIL

Technical Director

IVAN MERSIC

Technical Director

EMILE REYNAUD

Technical Director

HENRI CASSELLE

Technical Director

NÉMO COURTEIX

Main Pipeline Developer

SIXTINE PIRAT

Pipeline Developer

AMALIA PLUCHARD

Pipeline Developer

JEAN RAILLON

Pipeline Developer

JULIE LECLERC

Pipeline Developer

PIERRICK RÉVEILLÈRE

Pipeline Developer

ROMAIN THIBAUD

Pipeline Developer

THÉO LEPLOMB

Technical Coordinator

CÉLIA DEMÈRE

R&D Development Director

LUCAS MILLER

R&D Developer

THOMAS GUILLAUMIN

R&D Developer

MAXIME ENGEL

R&D Developer

SÉBASTIEN BERTHET
ASSET CREW
Character & Rigging Director

CAROLINE BRUNO

Character & Rigging Director

THOMAS GUITTONNEAU

Character & Rigging Director

CHRISTOPHE ALENDA

Character Modeling Lead

UGO FROMENT

Character Modeling Artist

ALWIN DUREZ

Character Modeling Artist

ANTHONY OKOKO

Character Modeling Artist

CAMILLE ROULOT

Character Modeling Artist

CÉCILE REGIS

Character Modeling Artist

CÉSAR FORTIN

Character Modeling Artist

DANNY NOLIN

Character Modeling Artist

EVA ROSHARDT

Character Modeling Artist

LÉO EWALD

Character Modeling Artist

MAXIMILIEN BOUGEOIS

Character Modeling Artist

MÉGANE LEPAGE

Character Modeling Artist

RAYAN HAÏDAR

Character Modeling Artist

TRISTAN GANIDEL

Character Modeling Artist

VARBINA STOYANOVA

Texturing & Shading Director

JÉRÉMIE AURAY

Character Surfacing Lead

MORGANE LOPEZ

Character Surfacing Artist

ARTHUR LAFONT

Character Surfacing Artist

ASTRID VOLF

Character Surfacing Artist

AURÉLIEN THRONION

Character Surfacing Artist

CAROLINE ROMANO

Character Surfacing Artist

CÉCILE FLOUCAT

Character Surfacing Artist

LAURENT POZZUOLI

Character Surfacing Artist

MÉGANE HIRTH

Character Surfacing Artist

MYRTIL LAPIERRE

Character Surfacing Artist

TONY D'ETTORE

Character Rigging Lead

THIERRY DEFOSSEZ

Character Rigging Artist

AMANDINE MARTIN

Character Rigging Artist

AUDREY VON HATTEN

Character Rigging Artist

CHLOÉ VION

Character Rigging Artist

CHRISTOPHE MARTINS DA SILVA

Character Rigging Artist

ÉLOÏSE HAMEL

Character Rigging Artist

GUILLAUME KUSY

Character Rigging Artist

MÉLANIE HUANG

Character Rigging Artist

ORIANE THIBAULT

Character Rigging Artist

SKANNY MARQUER

Character Rigging Artist

VIRGINIE TEXIER

Rigging Technical Director

MATTHIEU CANTAT

Grooming Artist

HATHAIPHAT CHUCHIT

Grooming Artist

MO BAO

Sets Modeling Director

THOMAS HERTRICH

Set Modeling Lead

NOÉMIE GUITTER

Set Modeling Artist

BENOÎT TOUROUDE

Set Modeling Artist

BRUNO ROUX DIT BUISSON

Set Modeling Artist

ELORA TOUSSAINT DU WAST

Set Modeling Artist

GRÉGORY DEFAUWES

Set Modeling Artist

MARION LOUDIÈRE

Set Modeling Artist

MOÏRA VIALLET

Set Modeling Artist

NICOLAS APPENZELLER

Set Modeling Artist

THOMAS DUFRESNE

Set Modeling Artist

YOAN OLLIER

Set Surfacing Lead

ALEXIS ROUSSEAU

Set Surfacing Artist

AMBRE GRANGEREAU

Set Surfacing Artist

CYRIL LAVANANT

Set Surfacing Artist

KEVIN LENOIR

Set Surfacing Artist

MAXIME PONNELLE

Set Surfacing Artist

MORGANE PERIER

Set Surfacing Artist

SIMON CHASSANNE

Set Surfacing Artist

VALENTIN TOURNEBIZE

Props Supervisor

YANN MATHIOT

Props Rigging Supervisor

MORGAN PERIN

Props Rigging Artist

LEANDRO RIBEIRO

Props Modeling & Surfacing Artist

FÉLICIA BUIS

Props Modeling & Surfacing Artist

MATTHIEU MONTAGNY

Props Modeling & Surfacing Artist

TAMIA LACHMANN

Matte Painting Artist

FLORENT BOSTON

Matte Painting Artist

LÉA LEBOURGEOIS
LAYOUT CREW
Layout Supervisor

ROBIN BERSOT

Layout Artist

AYMERIC VENNIN

Layout Artist

NATHAN CRETEGNY
ANIMATION CREW
Animation Supervisor

NICOLAS CREPALDI

Animation Supervisor

MICHAEL MAHY

Animator

ALEXANDRA GASZTOWTT

Animator

ALEXANDRE MAURIN-PERRIER

Animator

CAROLINE DÉCAMPS

Animator

CORALIE BRACONNOT

Animator

DAVY CROSTA

Animator

FRANÇOIS BARREAU

Animator

ILONA CHARLES

Animator

JORDAN L'HUILLIER

Animator

JULIEN ROBIN

Animator

LAURA VIVER CANAL

Animator

LÉO TAMBY

Animator

LORIS GIORDANO

Animator

MATHIEU VIDAL

Animator

MERYL BRINGS

Animator

PIERRE GAGLIARDI

Animator

SAMUEL AGNIEL

Animator

SÉBASTIEN BARLET

Animator

SOFIANE BENAISSA

Animator

TANGUY LAURENT

Animator

THOMAS CHAUMEL
LIGHTING & RENDER CREW
Lighting Director

FLORENT CADEL

Lighting Lead

MIGUEL RIBEIRO

Lighting Lead

SIMON CHANSARD

Lighting Lead

THOMAS NÉMERY

Lighting Artist

ALEXANDRE VIGNANCOURT

Lighting Artist

ARTHUR BONNET DE PAILLERETS

Lighting Artist

AURÉLIEN DOUAY

Lighting Artist

BENJAMIN CHAUMENY

Lighting Artist

EMILIE MILCENT

Lighting Artist

JULIEN TASSAN

Lighting Artist

SANDRA BOUCHER

Lighting Artist

STANISLAS GRUENAIS

Lighting Artist

YASMINE LEMINEUR

Rendering Supervisor

ALAN BOISSEAU

Wrangler

ARTHUR MOREL

Wrangler

VINCENT MARTINEZ
VISUAL EFFECTS CREW
Visual Effects Supervisor

JEAN-PIERRE TRABLY

Visual Effects Technical Director

PABLO DARTIGUES

3D Visual Effects Artist

TOM DELGUSTE

3D Visual Effects Artist

ARTHUR GUIBERT

3D Visual Effects Artist

EMILIE VAUVILLIER

3D Visual Effects Artist

ERIK CAMPEAUX

3D Visual Effects Artist

EVA SIBERTIN BLANC

3D Visual Effects Artist

FABIEN BRUNET-MANQUAT

3D Visual Effects Artist

FLORIAN MEYER

3D Visual Effects Artist

IYONA DROUILLET KOCH

3D Visual Effects Artist

LOÏC BAUER

3D Visual Effects Artist

LUCAS VIGNON

3D Visual Effects Artist

MARKO LEFEUVRE

3D Visual Effects Artist

ROMAIN GILLOT

3D Visual Effects Artist

SAMAËL PIOCH

3D Visual Effects Artist

TAVENISSA GIRE

3D Visual Effects Artist

THIEBAUD SCHUTZ

2D Visual Effects Artist

ANDRÉA BRIMBOEUF

2D Visual Effects Artist

FLORENT SAGET

2D Visual Effects Artist

FLORIS EYSSAUTIER

2D Visual Effects Artist

FRANÇOIS DUJARDIN

2D Visual Effects Artist

MARTIN DARRIGRAND

2D Visual Effects Artist

PIERRE-MÉZIANE SERSOUR

2D Visual Effects Artist

ROMANNE BRUNET
COMPOSITING CREW
Compositing Supervisor

PHILIPPE HUBERDEAU

Compositing Supervisor

MANON CAMBONIE

Compositing Artist

ALCIDES GUÉRAULT

Compositing Artist

ANNA KAPRIS

Compositing Artist

EMMANUELLE DUPLAN

Compositing Artist

FLORIANE GRENECHE

Compositing Artist

GUILLAUME POUEYMARIE

Compositing Artist

JADE BAILLARGEAULT

Compositing Artist

JOËL GHISALBERTI

Compositing Artist

LORELEÏ BLOT

Compositing Artist

LOUVE JACQUET

Compositing Artist

PHILIPPE BASTIEN

Compositing Artist

ROMAIN FROMENT
POST-PRODUCTION CREW
Post-Production Director

CAROLE VASSEUR

Editing Assistant

ARMELLE VIDAL
I.T. CREW
System Administrator

FLAVIEN REYNAUD

System Administrator

OLIVIER MIGEOT

System Administrator

SHEHZAAD CHAKOWREE

System Operator

AXEL AFFANOU

System Operator

DAMIEN MEDJAH

System Operator

LOÏC JOURDEN

System Operator

MICKAËL TCHERENKOV

System Operator

NICOLAS PELLET
ADMINISTRATIVE CREW
Chief Administrative Officer

MARYVONNE LE MEUR

S.V.P. Legal and Finance

CAROLE SMADJA

Legal Officer

MATHIEU BARDOU

Accountant

PATRICE TREMEL

Production Administrator

FRANÇOIS-XAVIER CHATEAU

Administrative Assistant

LOU MONTARGÈS

Costs Controller

BRYAN ZAMBRANO

Costs Controller

ERWANN JOURDREN

Costs Controller

PHILIPPE MASSY

Talent Acquisition Manager

JUDITH BRUNEAU

Human Resources Management Teams

ALINE HELL

Human Resources Management Teams

CAROLE RACHET
Music Production
MUSIC
Music Composed and Produced By

JESPER KYD
IGLOO
Dialogue Editor

THEA PREVALSKY

Recording Engineer

PHIL LEVINE

ADR Recording Engineer

ANNA MUEHLICHEN

ADR Recording Engineer

PHIL LEVINE
ATLAS OCEANIC
Re-Recording Mixer / Sound Designer

ROBERT HARGREAVES

Foley Artist

SANAA KELLEY

Foley Artist

MATT SALIB

Foley Editor & Mixer

JORDAN MCCLAIN

Foley Editor & Cuer

MITCH KLUGE

Sound Supervisor

DEVON BOWMAN

Sound Supervisor

DEVON BOWMAN
EVERYTHING ALL THE TIME PROD. LLC
BTS Director & Camera Operator

CODY JACK LOVE

BTS Sound

CARLY RAE LOVE
SUPPORTING CONTENT AND BEHIND THE SCENES BY:
Lineage Interactive
LINEAGE PRODUCTION TEAM
Executive Producer

ANTHONY RODRIGUEZ

Executive Producer

BLAKE ARMSTRONG

Producer

KRISTEN POLITIS

Producer

LAURIE BERGER

Producer

DWAYNE HENRY

Associate Producer

KYLE KOMEN

Director

MICHAEL KOFSKY

Director of Photography

ANDRIA CHAMBERLIN

Sound

AARON GOLDEN

BTS Photographer

TAY MANSMANN

Voice Over

BEAU STEPHENSON

Music Composed and Produced By

JESPER KYD
LINEAGE EDIT TEAM
Editor

MICHAEL KOFSKY

Editor

ANDRIA CHAMBERLIN

Editor

EVAN SMITH

Editor

COREY VENT

Editor

RYAN GREEN

Editor

TESS KARMAN

Post Production Supervisor

KRISTI KILDAY
LINEAGE VISUAL EFFECTS TEAM
Visual Effects Supervisor

ALANA RODRIGUEZ

Visual Effects Coordinator

RIVKA HERRERA

Visual Effects Coordinator

BEVERLY PONCE

Animator

DAVID VAZQUEZ

Art Director

Adam Wayne
ADDITIONAL PERSONAL
Executive Producer

ANTHONY RODRIGUEZ

Executive VP

DREW FREEDMAN

Head of Partnership

KYLE KOMEN

Creative Director

ALANA RODRIGUEZ

Head of Production

BLAKE ARMSTRONG

Producer

KRISTEN POLITIS

Producer

LAURIE BERGER

Producer

DWAYNE HENRY

Art DIRECTOR

ADAM WAYNE
Unobtainium Agency
CREATIVE TEAM
Chief Creative Officer

PATRICK RUNCO

Creative Director

NICK RUNCO

Associate Creative Director

CURTIS RAINSBERRY

Copywriter

JAMES CHAPMAN
STRATEGY TEAM
VP, Strategy

JUSTIN SCOTT

Associate Director, Creative Strategy

MIKE SANDS
DESIGN TEAM
Senior Art Director

CHLOE BOOHER

Design Manager

DUNIA CASTRILLO
PROJECT MANAGEMENT TEAM
Senior Project Manager

VERSARY PANGILINAN

Associate Project Manager

NICOLE WEAVER
Plarium
SPECIAL THANKS TO
Content Producer

OLIVER RUSHTON

Product Marketing Producer

IEVGENIIA IVANOVA

Art Manager

ALEXANDRA ZHUKOVA

GAME WRITER

PAUL C.R. MONK
ADVERTISING DESIGN DEPARTMENT
Advertising Design Coordinator

ANASTASIIA ALEKSANDROVA

Multimedia Designer

LIUDMYLA SHUMANSKA

2D Designer

YEVHENII HOLOVKOV
Analytics Department
Data Analyst

DENYS BAKHTINOV

Game Analytics Team Lead

HANNA PONOMAROVA
AUDIO PRODUCTION DEPARTMENT
Director of Audio Department

BORYS OLIINYK

Project Coordinator

AMIR TARAWNEH

Audio Producer

OLEKSII BORYSOV

Audio Producer

ILLIA GOGOLIEV

Audio Producer

OLEH HORBONOSOV
BRANDING DESIGN DEPARTMENT
Director of Branding Design Department

VOLODYMYR STOLOV

Principal Brand Designer

OKSANA IVANOVA

Lead Brand Designer

VIKTOR HONCHARENKO

Branding Design Team Lead

YAN YUSHYN

Brand Designer

OLEH ANTONOV

Brand Designer

TETIANA NIESMIEIANOVA

Brand Designer

TETIANA KIZIM
COMMUNITY MANAGEMENT DEPARTMENT
Director of Community Management Department

IHOR MISHCHENKO

Community Producer

TETIANA TOPAL

Digital Communication manager

YULIANA SOSONNA

Community Management Team Lead

ZHANNA LUPYNOS

Content Creation Team Lead

ANDRII KUNDA

Lead Art Generalist

DALIUS SAMOILENKO

Project Coordinator

ANASTASIIA REPINA

Community Partnership Manager

ANNA DOLZHENKO

Community Partnership Manager

ANASTASIIA HORIELOVA

Community Manager

VOLODYMYR KRAMSKYI

Community Manager

ANDRIY KUKURIAN

Community Manager

NINA LAZORENKO

Community Manager

VERONIKA LIUBARSKA

Community Manager

YANA NAIPAK

Content Specialist

DMYTRO MOLCHANOV

Content Specialist

IULIIA PASTUSHEVSKA

2D Designer

NAZAR BASS

2D Designer

IRYNA KHARCHENKO

2D Designer

NATALIIA OSTROHORSKA

2D Artist

OLEKSANDR PRONSKYI

2D Artist

OLEKSANDR KUCHERENKO

2D Artist

OLEKSII SEMYKIN

Motion Designer

RUSLAN VODOLAZSKYI

Motion Designer

OLEKSANDR STELMAKH

Motion Designer

ANDRII TURCHYN

Motion Designer

IGOR VERSHYNIN

CG Generalist

OLEH SOLOVIOV

CG Generalist

VIACHESLAV MALINOV
CREATIVE DEPARTMENT
VP Creative

NICK DAY

Brand Director

JENNIFER VON STROHE

Product Marketing Production Team Lead

JULIA VOVK

Product Marketing Producer

ANATOLII KOZAK

Product Marketing Producer

BILLY WAKIL

Product Marketing Producer

JAKE YEMTSOV

Content Writer

ARNAV MUKHERJEE

RPG Content Team Lead

SAM FOXALL

Game Writer

MICHAEL JENKINSON

Loremaster

CALLUM DAVIS

Game Writer

ROSS CLARE
RAID: SHADOW LEGENDS TEAM
Game Director

DMYTRO VOLOVIKOV

Game Producer

LIDIIA SHAKUTA
Game Design Department
Associate Game Director

STANISLAV ZMIIVSKOI

Game Design Team Lead

ANNA MOSKOVTSOVA

Game Designer

RODION BASKAKOV

Acting Game Design Team Lead

EUGEN VONSYK

Game Designer

MAKSYM GAK

Game Designer

DMYTRO KHLUS

UI/UX Team Lead

MARIA TROTSKAYA

UX Designer

IVAN TOPOROV

UI Designer

POLINA NIEMETS

Game Designer

DANYLO SUMAROKOV

Game Design Team Lead

DARIA RIABOSHAPKA

UX Designer

ANASTASIIA BOIARSKA
Game BI Department
Director of Game BI Department

OLEKSANDR SHYSHKOV

Project Manager

DMYTRO GONTARENKO

Lead Data QA Engineer

DARIA YAKOVCHUK
RPG Department
Delivery Manager

NATALIIA MASLOVA

Acting Art Producer

OKSANA LEONOVA

Project Management Team Lead

ANASTASIIA KUTSENKO

Project Manager

ANASTASIIA ZIUBINA

Art Director

VALENTIN DEMCHENKO

Associate Art Director

STANISLAV SHCHOHOLIEV

Technical Art Team Lead

NAZARII SOKOLOVSKYI

Technical Art Team Lead

SERHII ZOLOTAROV

Technical Artist

OLEKSANDR HLADYSHEV

Technical Artist

ALINA KRAVCHENKO

Technical Artist

SERHII PARKHOMENKO

Technical Artist

DIANA RODE

Technical Artist

IVAN SAZANOV

Lead Technical Artist

DMYTRO KULISH

Art Manager

ANTON ANDRUSHCHUK

Unity Developer

OLEKSII BOIARSKYI

QA Team Lead

NADIIA BUTENKO

Unity Developer

VLADYSLAV DEMCHENKO

Unity Developer

OLEKSANDR DZHURABAIEV

Unity Developer

OLEKSANDR FOMICHOV

Unity Developer

MAKSYM KEDROVSKYY

Client Development Team Lead

MARAT KHALIBEKOV

Unity Developer

ARTEM KHUDYAKOV

Lead Unity Developer

DMYTRO KOVERIA

QA Engineer

ANNA LYTVYNCHENKO

Unity Developer

ROMAN MARTYNIUK

QA Engineer

KATERYNA MOSKALENKO

Unity Developer

SERGII PILGUI

QA Engineer

ROMAN PROZOROV

Unity Developer

IAROSLAV RUDENKO

QA Engineer

VITALII SHCHIEBIETOV

Lead QA Engineer

INNA SHEPLIAKOVA

QA Engineer

VLADYSLAV SMYRNOV

Technical Art Team Lead

NAZARII SOKOLOVSKYI

Lead Unity Developer

IRYNA SOLOSHENKO

QA Team Lead

DIANA VAVRENIUK

Lead QA Engineer

TETIANA YERMAK

Unity Developer

IVAN ZARIANOV

QA Team Lead

DMYTRO ZHUKOVSKYI
GAME PLATFORMS DEPARTMENT
Landing Pages Producer

BOHDAN LYSIAK

Project Manager

OSTAP MARYSIUK

Front-End Team Lead

EDUARD PROKOSHYN

Front-End Developer

KYRYLO SAMUSENKO

Front-End Developer

ANDRII CHAPNI

UI Designer

ALINA DEMIAN

Content Manager

OLENA POLISCHUK

QA Engineer

YULIA MELNYCHUK

DevOps Engineer

DENIS PANASENKO

Acting Content Management Team Lead

ANASTASIIA MINIENOK
Game Server Development Department
Development Team Lead

ARSEN ABLAIEV

.NET Developer

ARTEM SKLIAROV

Lead .NET Developer

VIKTOR KOSHMAN
LiveOps Department
RPG LiveOps Manager

DARIN MOKHAMMAD

LiveOps Tech Lead

PAVLO HRYNYUK
LOCALIZATION DEPARTMENT
Director of Localization Department

NATALIIA HLADKA

Localization Team Lead

MALVINA CHEMERYS

Lead Localization Engineer

ANASTASIIA NIKOLENKO

Localization Coordinator

ANASTASIIA MASLENIKOVA

Localization Coordinator

HALYNA KUMPAN

Localization Coordinator

DARIYA DOROVSKA

Localization Coordinator

KURILOVA SVITLANA

Localization Coordinator

ANASTASIIA KOLOMIIETS
Monetization & Game Services Department
.NET Developer

VOLODYMYR KOMAROVSKYI

QA Engineer

YULIIA PODZOLKOVA

Project Manager

OLENA REVA

QA Engineer

MYKOLA SAFONOV

UI/UX Designer

VITALII SMOLII

Project Manager

OKSANA SOKOL

Front-End Developer

PAVLO YASHIN

QA Team Lead

OLEKSANDR ZAIETS
Remote Management Department
Director of Remote Management Department

MARIIA SHAMRAI

Remote Management coordinator

YEVHENIIA SYROTA
VIDEO PRODUCTION DEPARTMENT
Filmmaker

ARTUR KOZHEVNIK

Director of Video Production Department

DMYTRO BOGACHOV

Project Coordinator

ALINA FILINA

VFX Producer

PAVLO SHPORT

Filmmaker

MAKSIM VODOLAZSKIY

Videographer

ALEXANDR KVOK

Videographer

PAVLO SEMASHKO

Concept Artist

ANDREW PALYANOV

3D Modeling Team Lead

ALEX VASIN

Character Artist

SERHII KONOVALOV

Character Artist

VOLODYMYR KRAVCHENKO

Character Animation Team Lead

OLEG ROGOZA

Character Animation Artist

KUTYSHENKO TARAS

Character Animation Artist

YEVHEN HAIKOVSKYI

Character Animation Artist

VERONIKA YESYPENKO

Character Animation Artist

STANISLAV KAINARA

Character Animation Artist

IGHOR KHOMENKO

Character Animation Artist

MAKSIM KULITSKIY

Character Animation Artist

IHOR KALIUZHNYI

Character TD

ARA HOKHIKYAN

Modeling Character artist

SHAVO KANDALYAN

VFX Supervisor

MARKIYAN ZHYRAVETSKYI

VFX Artist

NICK VOITOVICH

VFX Artist

BOGDAN ZYKOV

CG Generalist

ALEX GAMAIUNOV

CG Generalist

YEVGEN DESHEVIY
ANIMATION PRODUCTION SERVICES PROVIDED BY:
MADE IN PARTNERSHIP WITH:

"We will get through all this together because our unity is our strength. Take cate of our
loved ones and yourselves; we will rebuild our beautiful country once all this ends."
- Plarium Ukraine Studio
THIS PROGRAM BENEFITED FROM THE FRENCH
TAX REBATE FOR INTERNATIONAL PRODUCTION